Company History and Expansion
The Founder Arthur Albert Henton started Steam Threshing Contracting serving the local farming communities and in 1903, he made his first new purchase of an 8NHP Traction Engine from Wm. Allchin in Northampton.

This necessitated the creation of a modest engineering facility to maintain a growing fleet of steam engines and associated machinery.

The engineering company progressed from this embryo and soon became well established, not only supporting the contracting business, but successfully expanding into the metal working trades.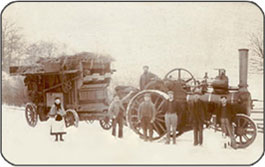 Above: One of the few surviving 8NHP Tractions built by Wm. Allchin and purchased new by Arthur Albert Henton in 1903, this engine is still in the family, it has been extensively refurbished in our own workshops and restored to its original condition.
The founder
Arthur Albert Henton
1880 - 1951

In the post war years the company consolidated its activities with emphasis on quality fabrications, welding and machined products including the manufacture of two well proven and sophisticated agricultural Trailer ranges, the Brabazon and Britannia now used throughout the UK for harvesting grain, potatoes, beet and silage.



In 1966 the construction of the UK 275KV and 400KV Supergrid System was underway with the need for associated metalwork. The knot was tied and Henton quickly became well known as a principal supplier of overhead line materials to the main contractors. The range of products was progressively widened and the customer base increased to include insulator and overhead line construction contractors, the Central Generating Board, the Area Electricity Boards and overseas Electricity Authorities.

In January 1988 Henton acquired Overhead Line Fittings from the Unidare Group, the long established and respected supplier of insulator fittings and overhead hardware to the industry both home and abroad. From then onwards the company implemented an on-going policy to enhance its reputation for Quality and Service.